by Angela On October 26, 2012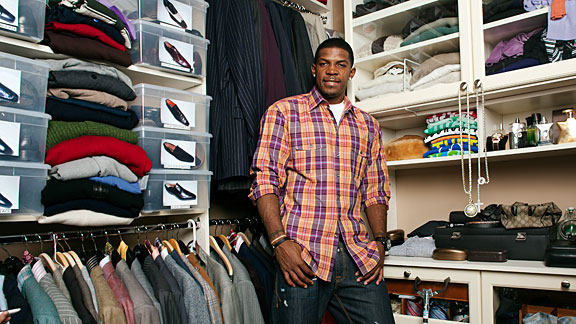 {Joe Johnson Closet from ESPN Magazine}
When if comes to amazing organized Dream Closets for guys I just have to say I love the NBA!  NBA star Joe Johnson of the Brooklyn Nets (formerly of the Atlanta Hawks) has one of the most amazing shoe closets ever!!! I can imagine myself in what Joe calls his "shoe vault" standing in the middle and gazing up at the 20 foot tall closet in amazement slowly turning to see the treasures on each wall.  It reminds me of a scene from a movie.  So let's take a look at Joe Johnson's closet, in amazement, in this week's: The Good, The Bad, and The Reality.
The Good
Wow! In the photo above you can see that Joe's dress shoes are organized in clear shoe boxes with a photo of the shoe and a label on each shoe box.  That's impressive!  Especially for a guy!
I must confess I have never heard of a shoe vault.  But how spectacular!  Joe's shoe vault is 500 square feet and Joe admitted to ESPN that he wanted it to look like a museum.  The door is armed with a fingerprint sensor to make sure he is the only one who can get into this Air Jordanesque museum.  WOW!  The biggest thing that stands out to me is when you look at the photo below of Joe's shoe vault is that the finish in the closet is a very dark wood, but notice how bright it looks. Why? Because this close/vault was designed with TONS of under cabinet lighting!!!  Not only does this brighten up the closet but it allows Joe to see what color each pair of shoes is.  I must admit I would LOVE to step into this closet.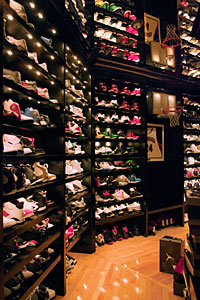 The Bad
Joe appears to have a lot of stuff.  (I know you what you're thinking: "Really?  Duh!")  But it's true.  In Joe's interview with ESPN The Magazine Joe admits that of his 436 pairs of shoes "they're mostly unworn".  Oh no Joe, say it isn't so!  This is a reality for many people.  But in this case Joe's collection is so amazing that he could donate a few pairs to a charity auction and raise money for his favorite charity while making a little extra room in his vault. (can you tell I just like saying "vault"?)
Joe's closet is so amazing that when you see something minor that is not done well it really stands out.  In this case in Joe's clothing closet he could use some help with his color coordinating.  The jackets in the top picture do not appear to be in color order.  That is a super simple trick that will really pull this closet together.
Last but not least, Joe could use some help with his folded clothes especially the clothes in the glass fronted cabinets on the right hand side of the photo above.  You may notice that one purple shirt appears to be shoved in the cabinet and a purple sleeve and orange sleeve appear to be hanging off the edge.  Here's a **BIG TIP** to everyone reading:  if you don't like to fold DO NOT, I repeat, DO NOT get glass fronted cabinets!  Whoever advised Joe on that was not a good friend.
The Reality
Joe admits that with the 20 foot ceiling heights even though he is 6'7″ he still cannot reach everything.  So (I love this) Joe uses what he calls a "grabber" from Unger I would imagine it is like the one on the following site Unger.  Unger calls it a nabber.  That to me a a huge reality! So many people cannot reach the tops of their closets and it's refreshing to know that even NBA basketball players can't always reach the top of their closets either!  Even better he is giving us advise on how to do it!  I love it!
What do you think of Joe's shoe vault?  Do you think it is amazing or too much?