by Angela On July 13, 2012
{Photo from Kickette}
With the Olympics almost here I thought I would go a little British invasion with the Dream Closet this week and I think I got pretty close to the Dream Closet Jackpot! This week we will look at Victoria Beckham's (a.k.a. POSH Spice. Not to be confused with POSH Space. Ha, ha!) closet.
The Good
Known as a fashionista and becoming know as a fashion designer Victoria's closet is definitely a closet to be seen.  The first things I noticed were the orange bags on the upper right hand side of the photo.  According to Kickette those are Hermes bag protectors.   Yes, the chances are you probably have or have received a handbag protector at some point.  I have found for most people they end up in a box in the back of the closet.  People often ask me if they should use them.  Quite frankly most people do not want to use the soft cloth bag protectors because they think once the purse is out of site it will be out of mind.  But here is what separates a true fashionista from…well…the rest of us, Victoria has labeled the shelf under EACH handbag!  It's difficult to see if the label is a small photo, a written description, or just a color swatch.   Regardless, if Victoria wants to use a certain handbag she can locate and  retrieve it in seconds!  LOVE this!
The Bad
Besides the usual-me crying about how I want to see MORE of her closet I do have one other comment.  On the left side of the closet you can see there is a plastic dry clean bag that probably still has clothes in it.  Storing clothing in plastic dry clean bags is not good, especially for a fashionista who may own some vintage or very expensive pieces of clothing. The plastic does not allow your clothes to breath and can leave clothing smelling of plastic.  It you want to keep clothing protected from dust use a breathable cloth bag. Like the purse protector bags we saw above or the Natural Cotton Garment Bag from The Container Store see photo below.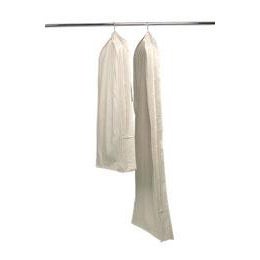 The Reality
On the top row of the closet you can see that Victoria has Louise Vuitton luggage neatly tucked away.  If this is her actual luggage that she uses that is simply fabulous.  She is storing them with easy access and using them as decor at the same time.  If it is vintage luggage then she may be using it as decor and using it to store off season clothes. Using stylish storage pieces rather than bland, ho-hum, ugly storage boxes gets a BIG A+ in my book!  Using stylish storage pieces in your closet is something you could easily replicate.  Don't worry, it doesn't have to come with a huge price tag, just go for storage with style.
Oh Victoria, thank you for gracing us with a tiny glimpse of your closet.  It was wonderful.  If only we could see the rest…and David's closet!
What do you think, about Victoria's closet?