by Angela On July 6, 2012
If there was an award for the dreamiest dream closet I think it would hard to beat Mariah Carey's closet.  It's almost heavenly.  Maybe it is heaven?  Shoe heaven or closet heaven???  Regardless, it's definitely a sweet closet for this Friday's Dream Closet: The Good, the Bad, and the Reality.
The Good
It's gorgeous, is that enough said?  The white and gold finishes are simply fabulous and the chandelier is exquisite!  It's what every 6 year old girl dreams her closet will look like when she grows up!  I do have to say I like the airiness of Mariah's closet.  We have seen some dream closets in the past that are big, but still feel stuffed and cramped with stuff.  Not this one.  It seems very calm and serene.
If you have read some of my previous post you may be able to see that Mariah is implanting some of my top closet must haves.  Some of my closet must haves include: an ottoman (or place to site), valet rods, color coordinated clothes, clothes grouped by category, and the right distance between the top of the shoes and the next shelf.  Bravo Mariah!
The Bad
As much as I said I love how airy and open this feels, it feels a little too big.  I am just imagining what it would be like to be in a hurry in the morning and trying to quickly grab all the things I needed.  This closet is SO big it would feel like I was running to different rooms to find my blouse, and my skirt, and my shoes.
I do love shoes, so this is difficult to say, but I really do think Mariah has too many shoes.  Based on these pictures I would estimate Mariah has about 200 pairs of shoes.  It seems like it would be hard to remember what shoes you even have.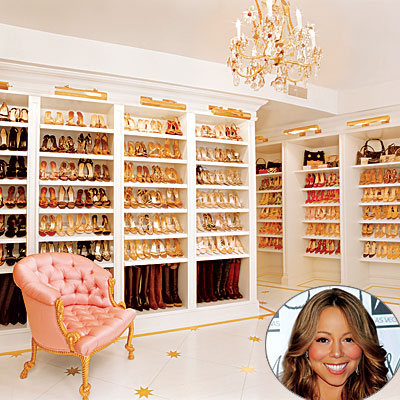 The Reality
As I mentioned in "The Good" there are many things Mariah is doing well in this closet.  Mariah may have a much bigger budget for her closet than you do but there are still basic foundation pieces you can use in your closet.  That's why I LOVE doing these posts!  Sure it's super fun to take catch a glimpse into the closet of a celebrity but how can we translate that into your life and your closet?  THAT is the reality.
What can you take from these dream closets that you can actually do in your closet?