by Angela On May 23, 2012
Congratulations to Gina O., the winner of last week's Purse Perfector! This week, we're giving away a set of 'Bento' organizational boxes from Rubbermaid!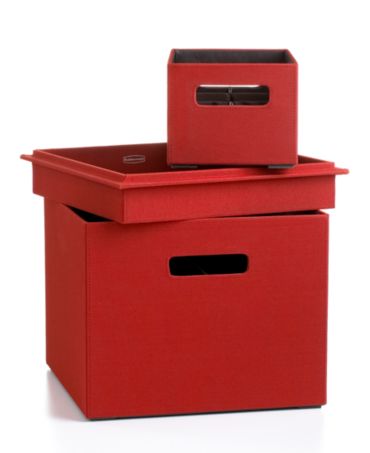 Rubbermaid's new Bento line consists of a variety of stylish and functional storage boxes for the home.  Rather than just storing items, flexible dividers flip in and out of place inside the box, allowing you to keep both large and small items tidy and organized.  The boxes can stack or fit inside one another, and toppers double as either secure lids or trays.
We will be giving away a set of 3 boxes (one medium, one large, and one extra large) plus toppers for each.  This giveaway is valued by Rubbermaid at $99.
Bento boxes can be purchased at Target stores, or online at Macy's and Rubbermaid website!
If you missed my video on Bento see below.
To enter the contest, click below on "enter to win" and enter using your e-mail address or Facebook account. You can also leave a comment to this blog post or on our Facebook page! Entries must be received by 12:01 AM Eastern Time on Monday, May 28 (so that is a minute after mid-night Sunday night/Monday morning). Your e-mail address will not be used for any other purposes except notifying you if you are the winner. This giveaway is open to U.S. residents 18 years and older
Good luck!