by Angela On May 11, 2012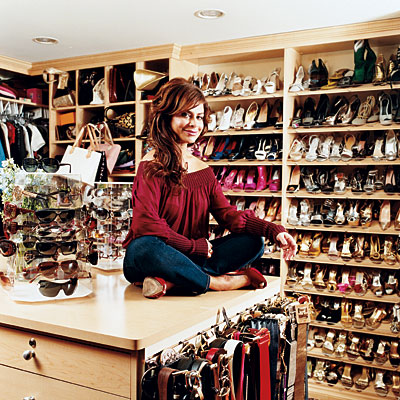 From In Style Magazine, 2011.
Straight up I'll tell you The Good, The Bad, and The Realistic about Paula Abdul's closet!
The Good
The first thing that I noticed in Paula's closet was the fun way that she is displaying her sunglasses.  How fun is that?  Paula's sunglasses are displayed as if you were shopping in a retail store.  They are super easy to browse through and pick out the perfect pair of shades in a few short seconds.
I also really like how Paula has her belts hanging at the end of the island.  This is an excellent choice as it is easy to see, easy to access, and is putting a space that is highly underutilized to work!  Bravo to that!
You can also see on Paula's shoe shelves that there is either a thin bar or an acrylic piece that is keeping the shoes from sliding off the shelves.  This is a must when you have shelves that are tilted like Paula does!  The last thing you want is a pile of shoes on the floor!
The Bad
Although things are grouped together in their own spaces there is still a feeling of untidiness in this closet- for a dream closet that is.  Handbags are sticking out of cubby's, straps from bags are hanging out, and the shoes are so crammed in that some have been tilted a little sideways.  As they would say on Paula's former show American Idol, I am just offering minor areas where Paula could improve her closet.  Overall her closet is great, but adjusting these little things would truly take her closet to dream closet status.
The Reality
Paula has a lot of stuff!  In the photo you can see she has tons of belts, sunglasses, shoes, and handbags.  Like most people Paula would probably benefit from going through and purging some items from her closet.  Her closet still appears to be highly functional, but it is on the edge of heading downhill.  In situations like this I recommend going through the closet quickly and reassessing with these questions: What still fits? What do I love? What would I actually wear?  Bag up what you don't want, love, or need and take it to a charity that makes you feel good about donating.
Overall, Paula's closet is pretty nice and dreamy, there's just a few things she could tweak to make it amazing just like she is!