by Angela On February 8, 2012
Files.  When you read the word do thoughts of beautiful file cabinets come to your mind or do you envision messy piles of paper and your blood pressure starts to rise?  In Part 2 of my 7 Part Office Essentials Series I'm going to show you how you can put the fab in your files!
Let's stat with the basics.  Despite all the talk of going paperless for most people that just isn't possible.  Paper comes in and out everyday and we have to have  a place to put it so it does not end up in piles on the floor, desk, counter, dinner table, etc. Let's look at the options.
The file cabinet pictured above from MarthaStewart.com is actually in a chest turned into a file cabinet by inserting a plastic file box into the chest.  You can have a chest like this in a guest bedroom, hallway, office or even at the foot of your bed.  I like this idea because it doesn't even look like a file cabinet.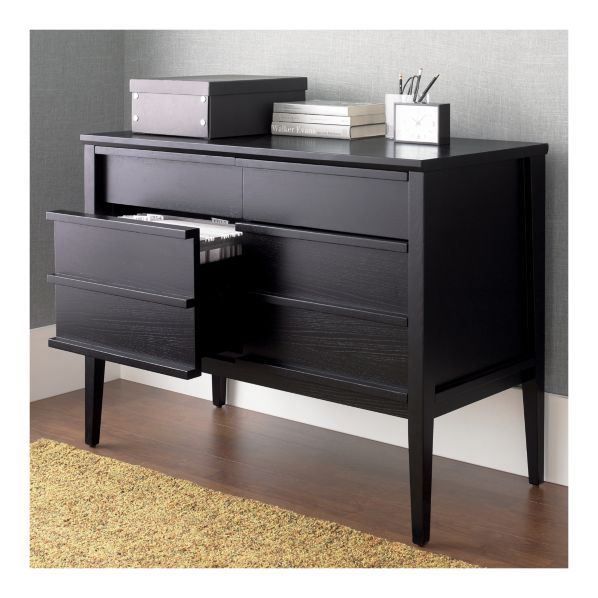 Above is one of my favorite pieces called The file Credenza from Crate and Barrel.  I love how it just looks like a piece of furniture.  This is a hybrid of a standard two drawer file cabinet and a lateral file cabinet (see below).
The picture above is the Bedford Lateral File Cabinet from Pottery Barn.  A lateral file cabinet is generally equivalent to a standard four drawer metal file cabinet but it has two long drawers.  Typically I recommend lateral file cabinets to my clients because you can find nicer pieces that look like furniture pretty easily.  You can typically find these at furniture stores and office stores.  A typical family of four will need about 2-4 drawers to hold their household files.  This of course will depend on how much paper you keep and how and where you  store your tax documents.
The picture above is a standard two drawer metal file cabinet.  Blogger Mandy P. from Fabric, Paper, Glue covered the front of her bland metal file cabinet with wallpaper.  Visit Piccadilly Market to see the DIY tutorial to get this look.
Last but not least, when it's time to purchase the hanging file folders that go inside your file cabinets, I always recommend using a color that inspires you.  Don't go with the standard green hanging folders you can purchase in bulk.  Instead use one color in a color you love.  Pictured above are files from The Container Store I also recommend Pendaflex hanging files.
One last little tip.  I found this on Pinterest and love this tip.  User binder clips to help keep files in place especially if you only have a few files in a cabinet and they keep sliding around every time you open the drawer.
Okay, that's all for this week.  See you next week for Part 3.  Click here if you missed Part 1 of my office organizing essentials series.
Happy filing!